Meet Our Doctors
Jim Buhl, MS,
DVM Practice Owner
Dr. Jim Buhl, a Rockford native, earned his veterinary degree from the University of Illinois in 2002, graduating in the top 10% of his class. He completed his B.S. in Biology from the University of Illinois, and his M.S. in Biological Sciences from Northern Illinois University. He is Fear Free Certified, and his interests include internal medicine and surgery. In his free time, he loves spending time with his wife, Margaret and daughters Taylor and Georgia. He has a border collie named "Sadie", and a cat named "Charles".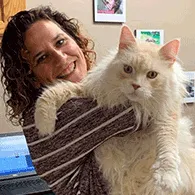 Alicia Guarino, DVM
Practice Owner
Dr. Alicia Guarino returned to the Rockford area in 2009 after a 10 year absence. She earned her doctorate in veterinary medicine from the University of Missouri -College of Veterinary Medicine in 2004 and was practicing in Wisconsinfrom 2004-2009. Her professional interests include small animal medicine and surgery as well as exotic and wildlife medicine
Outside of work, Dr Alicia loves spending time with her family enjoying the outdoors, especially in northern Wisconsin,and traveling. Her sons share her avid interest in wildlife and nature which makes for the most interesting discoveries!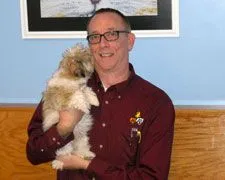 J. Michael Harter, DVM
Dr. Harter graduated magna cum laude from Colorado State University as a Doctor of Veterinary Medicine in 1995. Prior to and during vet school he worked in Diagnostic and Research Microbiology. He has advanced training in radiology and consults on the Veterinary Information Network. Dr. Harter's professional interests also include internal medicine, pain management, microbiology and infectious disease.
Mary Stromberg, DVM, MS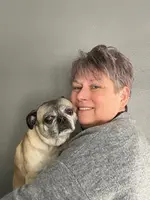 A 1986 graduate of the University of Illinois College of Veterinary Medicine, she also holds a Master's degree in veterinary pathology from the University of Nebraska. Dr. Mary is certified in Fear Free (level Elite). Using techniques to help patients experience less fear, anxiety and stress when they visit the veterinary office. Dr. Stromberg's primary interest is surgery. She has 3 children: Ashley Elliot, Zach and Josh. Outside of work she enjoys reading, gardening and volunteering. Her pet family includes dogs (Fu), cats (Doug, Batman Symbol, Izzie, Uni and Esme), Guinea pigs (William and Neo) and many fish without names. Recently she added a husband Bill and his three cats (Book, Page and Read) to the household.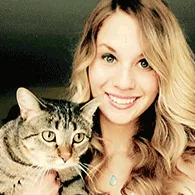 Dr. Ariana Sjuts, DVM, CVA
Dr. Ariana grew up in the western Chicago suburb of Wheaton, IL. She completed her Bachelor of Science in Biology at Elmhurst College then went on to earn her doctorate in veterinary medicine from Iowa State University. Dr. Ariana is also a certified veterinary acupuncturist (CVA) and is Fear-Free certified since 2020. In her free time, Dr. Ariana enjoys spending time with her husband (Alex) as well as traveling. She currently has 2 cats (Ellie, Big B) and a golden retriever (Oakley).