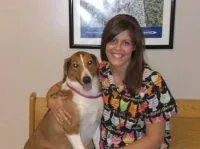 Ashley - Certified Veterinary Technician
Ashley started at Animal Medical Clinic as a member of the Care Staff in 1999 and became a receptionist in 2001. Graduating from Parkland College with an Associate in Applied Science, she received her certification as a Certified Veterinary Technician in 2004. She and her husband are proud owners of "Taggert", a goldendoodle and have been blessed with three children.
---
Barb - Veterinary Technician
Barb has worked in the animal field since 2004. She joined the Animal Medical Clinics in 2008, and now works both as a vet assistant and receptionist at the Animal Medical Clinic and the CherryVale Animal Clinic. She adopted her puggle, "Maddie", in August 2010. She is also now a proud mother to her daughter born July 28, 2011.
---
Donna, Certified Veterinary Technician and Branch Manager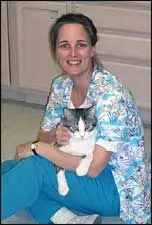 Donna is a Certified Veterinary Technician who graduated from Parkland College in 1989. She started at CherryValeAnimal Clinic when the clinic first opened in July, 1995. Donna has been a Certified Veterinary Technician and is also the branch office manager for the clinic. Donna was married in 2001 to her husband Kirk. Donna and Kirk met at church while participating in the church praise team and still enjoy doing that. She has 2 cats at home, Chester and Jinger, and also takes Boomerang home on the weekends.






---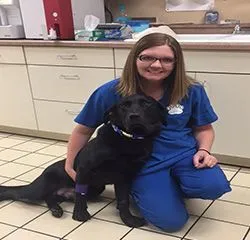 Jaimi - Certified Veterinary Technician, Fear Free Certified
Jaimi has been a part of the Animal Medical team since 2009. In 2014 she became a Certified Veterinary Technician. Jaimi and her husband enjoy their 3 cats, Annie, Eleanor, and Ledger, and their chocolate lab, Friday. Jaimi received her Fear Free Certification in 2018.
---
Sarah,
Certified Veterinary Technician
Sarah has been a veterinary technician for 10+ years. She graduated in 2005 from Duluth Business University in Duluth, MN. She has always has a passion for helping those in need. Her favorite thing about being in this field is being able to create lasting relationships not only with her patients, but with their families as well. She recently moved to the state with her husband and their two sons. They share their home with a hyper, loving pitty mix named Laker. She enjoys being outside and spending time with family and friends.
---
Andrea - Certified Veterinary Technician
Andrea graduated from Parkland College in 2004 with an Associates in Applied Science. She has been working for Animal Medical Clinic since October of 2007. In her spare time she enjoys fishing, camping and rollerblading. Andrea has a dog and 3 cats.
---
Danielle - Care Staff

Danielle has been part of the Animal Medical team since January 2010. She grew up on a local family farm and has been a lifelong animal lover. She was a member of 4-H for 10 years and showed pigs at the county and state fairs. Danielle and her husband currently share their home with four rescue animals: Chubbs, a senior English Bulldog, and three cats-Mabel, MacGyver, and Shadow.

---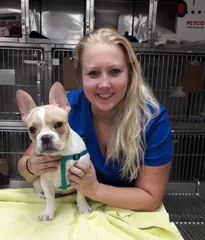 Nicole,
Veterinary Assistant
Nicole graduated with a Bachelors Degree in Animal Science in the Spring of 2016. She continued her passion for animals by joining the care staff crew in the Fall of 2016. In the beginning of 2018 she also took over Mondays in Waggin' Tails doggie daycare. Her love for animals began as a child and continues to this day. As a lifetime pet owner she is prepared to care for any and all pets. She is extremely excited to see where her future will take her at Animal Medical Clinic.