Welcome to CherryVale Animal Clinic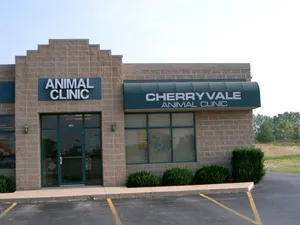 Located in Rockford, Illinois, CherryVale Animal Clinic is dedicated to providing quality, friendly care to dogs and cats.

Each veterinarian and team member is deeply committed to the health and well being of your pet. We love animals as much as you do!

Our professional affiliations include: AVMA (American Veterinary Medical Association), ISVMA (Illinois State Veterinary Medical Association), and GRVMA (Greater Rockford Veterinary Medical Association).

When you look for the right veterinarian for you and your animals, look to the CherryVale Animal Clinic.
CherryVale Animal Clinic
(815) 332-7387
Monday, Tuesday, Wednesday, & Thursday
8:00 a.m. - Noon
2:00 p.m. - 6:00 p.m.
Friday & Saturday
8:00 a.m. - Noon
Sunday: CLOSED
Contact Us
E-mail us at [email protected] .

Address
7360 N. CherryVale Mall Drive
Rockford, IL 61112
Telephone: 815-332-7387
Fax: 815-332-7032

Map:
We are located on the outer drive of CherryVale Mall. The mall is bordered by Perryville, Bell School, Newburg, and Harrison Roads.


View Larger Map
Appointment Policy
The Animal Medical Clinic, Animal Medical Clinic North and CherryVale Animal Clinic strive to offer quality and timely appointments to our clients. Due to the high demand for appointments, we are implementing the following policies for appointment scheduling.
New Clients: A deposit will be required to schedule an appointment at all of our clinic locations. The staff will ask for your information and your pet's information to enter into our computer software. They will schedule an appointment time that will work for you and then ask for a credit card payment authorization over the phone to secure that appointment. The payment posted to your account will be applied to the invoice total for your scheduled appointment. If you cancel with less than 24 hour notice or do not show for your appointment, the deposit will not be refunded.
Late Arrival Policy: We make every effort to be on time for our appointments. Unfortunately, when even one patient arrives late, it can disrupt the entire schedule for that day. Rushing or "squeezing in" an appointment shortchanges the patients and contributes to decreased quality of care. Should you arrive 10 minutes or more late, you will be asked to reschedule your appointment. The clinics reserve the right to charge a late fee.
Cancellation/Reschedule Policy: In order to be respectful of the medical needs of other patients, please be courteous and call our office if you are unable to keep your scheduled appointment. If it is necessary to cancel or reschedule your appointment, we ask that you call the clinic at least 24 hours in advance. All requests must be done during business hours. Your advanced notice will allow another patient access to timely veterinary care. If you cancel/reschedule with less than 24 hour notice, we will require a deposit for any future appointments. This deposit will be applied to the invoice total for your rescheduled appointment and will not be refunded when less than 24 hour notice is given for cancellation.
No Show Policy: A "no show" is an appointment that is missed without any notification to the clinic. 1st occurrence – we will ask the client for a deposit to prepay for any future appointment requests. 2nd occurrence - the client will forfeit the deposit for this appointment. You will be able to reschedule one final prepaid appointment for an additional deposit. 3rd occurrence within one year will result in being released as a client at any of our clinic locations.