---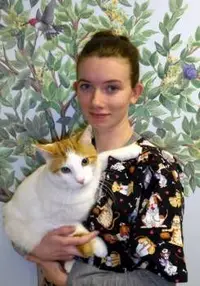 Christina "C.J.", Assistant Manager
Christina has been working at the Animal Medical Clinic since 2008 and has worked in the veterinary field since 2003. CJ has a household of pets including 3 dogs, 4 cats, 4 ferrets, 3 rats and a turtle! Needless to say, she loves animals. Outside of work, Christina enjoys reading, fishing, and rollerblading.







---
Donna, Certified Veterinary Technician and Branch Manager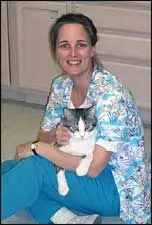 Donna is a Certified Veterinary Technician who graduated from Parkland College in 1989. She started at CherryValeAnimal Clinic when the clinic first opened in July, 1995. Donna has been a Certified Veterinary Technician and is also the branch office manager for the clinic. Donna was married in 2001 to her husband Kirk. Donna and Kirk met at church while participating in the church praise team and still enjoy doing that. She has 2 cats at home, Chester and Jinger, and also takes Boomerang home on the weekends.






---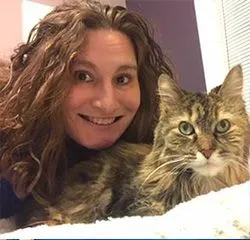 Heather - Veterinary Technician
Heather has been working at animal medical clinic since June 2018 and has worked in the veterinary field since 1997. Heather loves animals and has a household of her own, including 3 cats, Lily,Belle,Rizzo. Outside of work Heather enjoys hiking,movies,snuggling with her fur babies and spending time with family and friends.
---
Candi - Receptionist
Candi started working for Cherryvale Animal Clinic in Jan 2018. She has a passion for all animals and love getting to help them. She and her husband have two sons that they are so proud of. They also have a husky (Lola), two cats (Rizzo and Wrigley), two leopard geckos and a hedgehog. When Candi is not at work, she loves getting to go camping with her family!




---
Jade, Certified Veterinary Technician
Jade graduated from Rockford Career College with an Associates degree in Applied Science and received her certification in Feb of 2015. She has been at Animal Medical Clinics of Rockford since March 2015. Jade enjoys being outdoors four-wheeling, snowmobiling, fishing, or spending time with my dog Thunder. She has a dog, two cats, box turtles, and chickens.








---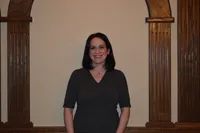 Mary, Certified Veterinary Technician
Mary graduated from Joliet Junior College in 2005 with an Associates in Applied Science. She started working at Animal Medical Clinic in May of 2005. Mary's pet family includes two dogs, Amelia and Hope, and five cats Kitta Boo, LunaTuna, Buster, Kateri, and Pheonix, a turtle and a chinchilla. When she's not with her animals, she likes to read, grow houseplants and watch movies. Mary can't wait to see you and your animals at the clinic!

---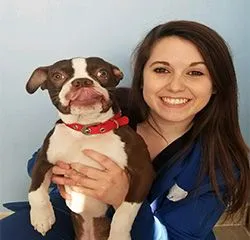 Alisha,
Carestaff
Alisha joined Animal Medical Clinics in 2018. She loves getting to know all the animals and keep them company while boarding. Alisha has a dog and cat of her own that she loves to spoil.