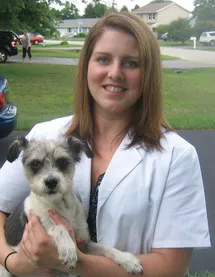 Jeannie Harrison, DVM
Dr. Jeannie Harrison is a Rockford native. She earned her B.S. in Biology at Rockford College and followed with her veterinary studies at University of Illinois College of Veterinary Medicine. Her professional interests include primary/preventive care, dentistry, and internal medicine. Outside of work she enjoys gardening, running, CrossFit, and spending time with her terriers.






---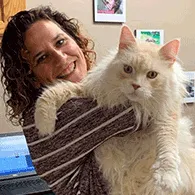 Alicia Guarino, DVM
Practice Owner
Dr. Alicia Guarino returned to the Rockford area in 2009 after a 10 year absence. She earned her doctorate in veterinary medicine from the University of Missouri -College of Veterinary Medicine in 2004 and was practicing in Wisconsin from 2004-2009. Her professional interests include small animal medicine and surgery as well as exotic and wildlife medicine
Outside of work, Dr. Alicia loves spending time with her family enjoying the outdoors, especially in northern Wisconsin, and traveling. Her sons share her avid interest in wildlife and nature which makes for the most interesting discoveries!
---
Jim Buhl, MS, DVM Practice Owner
Dr. Jim Buhl, a Rockford native, earned his veterinary degree from the University of Illinois in 2002, graduating in the top 10% of his class. He completed his B.S. in Biology from the University of Illinois, and his M.S. in Biological Sciences from Northern Illinois University. He is Fear Free Certified, and his interests include internal medicine and surgery. In his free time, he loves spending time with his wife, Margaret and daughters Taylor and Georgia. He has a border collie named "Sadie", and a cat named "Charles".
---
Dr Katie Racek-Peters
Dr. Katie Racek-Peters has been practicing in the the Greater Rockford area since 1996. She is a member of the AVMA, ISVMA, GRVMA, VECC and Association of Avian Veterinarians. She has a strong interest in exotic pets (parrots, reptiles, ferrets, rabbits, guinea pigs, rats, hedehogs, sugar gliders) but she loves seeing dog and cats also. "It is all about quality of life for our pets and the love that we share